A successful team meeting needs a suitable location. No matter if it is a team offsite, a workation or a normal team meeting. The setting in which you meet influences how successful your event will be. 
Reason enough for us to search for the 5 best locations for teams in Hamburg and the surrounding area and to visit them in person. Because only in this way can you be sure: These locations are the perfect venues for teams in Hamburg.
Country house feeling in the city in the middle of Hamburg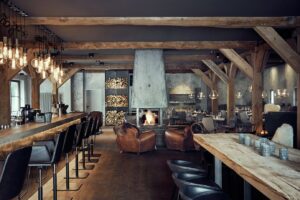 Our first location awaits you with the unexpected. In the middle of the big city of Hamburg (only 15 minutes by S-Bahn from the city center) you will find real country house style. 
Purist design with plenty of space, light and warmth. Casual luxury, reduced to the essentials. You can feel that individual places of well-being have been created here. With high-quality box spring beds and luxurious extras, such as Rituals products and highly motivated hosts.
200-year-old ceiling beams, rustic oak floorboards, an open fireplace - when you enter the country house you can still feel it, the heritage of the former farmstead.
In the well-known restaurant, the heart of the country house, the special attitude to life of the Scandinavians is celebrated every day anew. When dining with the team, the motto is: come down, relax, enjoy the moment. One of the 5 best team meeting locations in Hamburg.
| | |
| --- | --- |
| People | 56 |
| Room | 28 |
| Price range | upper midfield |
| Directions from Hamburg | 15min |
Seminar houses at the Baltic Sea near Hamburg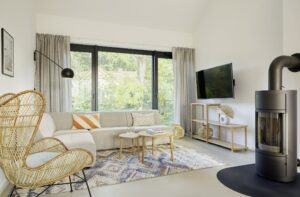 Fresh sea air blows around your nose in these new team houses on the Baltic Sea. Your team is accommodated here on a stylish area with several small and large vacation homes that offer plenty of space for joint work sessions. As a team, you'll feel the family atmosphere here. 
The small village Hohnwacht is still a real insider tip at the Baltic Sea!
The proximity to the sea with a huge natural beach does the rest.
30 generously designed apartments with high-quality equipment can be flexibly rented for your team. 
Open and light-flooded rooms and generous window areas in combination with bricks and wood provide a lot of free space and a natural living feeling.
The four apartment sizes provides an inspiring setting for workation and off-sites outside the confines of the city. The conditions for team workshops are also given:
super-fast fiber-optic internet and smart TV

on request office peripherals (printers etc.)

High Class Interior

Outdoor sauna, table tennis cellar and more.
| | |
| --- | --- |
| People | 50 |
| Room | 30 |
| Price range | lower midfield |
| Directions from Hamburg | 1h30m |
Hanseatic coziness
Near Lübeck, in Schleswig-Holstein, your team will find a hotel that is perfectly suited for events and provides the WOW effect with its tasteful furnishings. The location on the old town island of the Hanseatic city of Lübeck also invites you to discover the surroundings after work.
Relaxing by the fireplace, a cooking class in the Kocherei, a chocolate tasting or a gold course in Atelier No 1 will make your time in Lübeck an unforgettable experience.
Seven spacious, individually furnished rooms and suites. With attention to detail, Scandinavian-Hanseatic coziness meets modern seafaring. The event rooms offer many different variations of seating and are equipped with a portable screen and projector. For us, one of the 5 best team meeting locations in Hamburg.
| | |
| --- | --- |
| People | 14 |
| Room | 7 |
| Price range | Midfield |
| Directions from Hamburg | 1h |
Impressive seminar house near Hamburg
In Pinneberg and Wewelsfleth you will find two very special country houses for Company Retreats. 
Seminar house in Pinneberg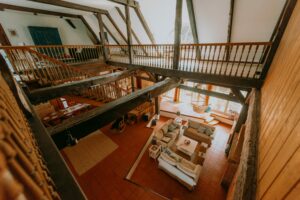 The house in Pinneberg offers on about 630 sqm 10 bedrooms (6 of them with directly adjoining bathrooms). A more than 100 sqm large living and dining room with a large open fireplace. You will also find a cozy bar with its own fitted kitchen.
A sauna, plus a rustic bar and a large garden are available. 
The location has its own bookcase in addition to a large game collection that is welcome to use.
Seminar house in Wewelsfleth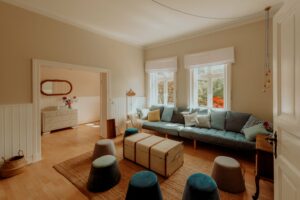 In Wewelsfleth there are two houses next to each other. Perfect if you want to work in different groups. 
There is room for just under 24 x guests and they can relax together in one of the living areas.
This accommodation can only be booked in combination with each other. You have two exclusive houses at your disposal.
Three lounge areas for teams, a dedicated kitchen, yoga facilities and plenty of sleeping space.
Manor with golf course for demanding guests near Hamburg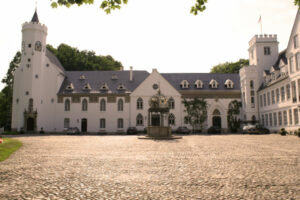 Our last location is a real estate with everything that goes with it. Warm colors, fine wood and fine fabrics provide a homey coziness. Just an hour away from Hamburg, this hotel is located in beautiful Pinneberg. 
In the large halls can be actively worked in a team and the day ends my exciting activity, from hunting to canoeing, in the surrounding nature.  
In the immediate vicinity is a high ropes course, here you can fish, enjoy good wine and relax in the spa area. 
We particularly like the holistic concept of workspace, hotel and activities. You as a team don't have to worry about anything. Absolutely one of the team meeting locations in Hamburg you should know. 
| | |
| --- | --- |
| People | 160 |
| Room | 80 |
| Price range | Upper midfield |
| Directions from Hamburg | 1h |
Conclusion on the 5 best team meeting locations in Hamburg
Hamburg's meeting locations for teams are definitely worth a look. On our page we have collected the most exciting locations in Europe for you, which we have tested ourselves. Have a look at our team locations.